Freebitcoin – faucet reviews and description
Freebitcoin is a bitcoin tap which besides the usual receiving of part of this cryptocurrency also allows you to increase your balance in many other ways. It is certainly one of the best, and probably even the best tap we can find on the internet today. What you should know about it and how to make money?
Freebitcoin – how to collect satoshi?
Earning in cryptocurrency taps is very simple and is usually limited to clicking on the appropriate button every certain amount of time. This is also the case with freebitcoin where we can receive satoshi (part of a bitcoin) every hour. Button "ROLL" which you have to click on can be found at the bottom of the page under the tab "FREE BTC".
How many satoshi we get after each roll depends on the number drawn in the range from 0 to 10000. There are 6 levels of winnings and the exact amount of coins can be seen in the table available after logging in. The highest possible value that you can get from 1 roll is not specified and is $200 in btc. What's more, after each click we also get Reward Points (RP) and lottery tickets, but about that in a moment.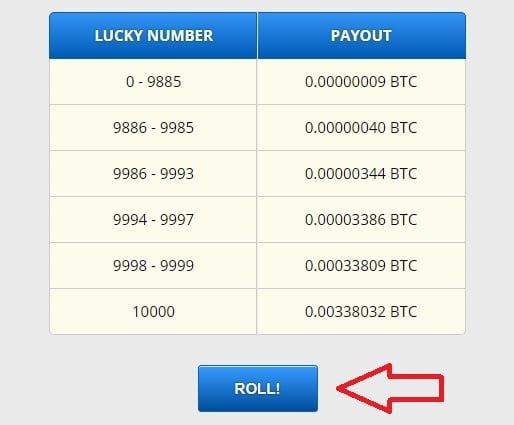 The amount of satoshi you get for each roll can be increased up to 4750 times by playing "Multiply btc". Freebitcoin faucet stands out from the rest and also allows you to increase the balance in another way. More on each method below.
Multiply btc
In the taproom freebitcoin we have a game to increase the current balance, that is "Multiply btc". The principle is simple, because all the fun is to choose the option "Bet HI" or "Bet LO". In simple words we indicate here whether the drawn number will be appropriately bigger (Bet HI) or smaller (Bet LO) than the given range. This in turn depends on "Win chance" that is the chance to win, the percentage of which we choose ourselves. The higher it is, the smaller the potential winnings of course.
In addition to the manual game, we also have at our disposal machine, which will play according to certain parameters until the given conditions are met.
It is also worth paying attention to jackpot, Multiply btc is a lottery strategy, thanks to which we can get an extra bonus when we hit a specific number. However, the chances of this happening are unfortunately very small.
In addition, by playing multiply btc we also increase the amount of satoshi that we receive after each roll. You can see how much it increases and how much you are missing to get the next bonus on the yellow background above the table with the number of satoshi for the drawn number. We can increase the amount of coins received up to 4750 times.

On the above screen we can see a bonus of +28 for each roll and the information that 88.6232% of the progress to the next bonus (+14) has been reached.
Multiply BTC strategy
On the internet we can find many different strategies that allegedly allow you to quickly earn money in the form of a very large number of satoshi. These strategies are based on similar assumptions as those in roulette, but we must remember that no strategy does not give us a 100% chance of winning.
How the mentioned strategy looks like, which we can also apply to freebitcoin?
you choose the amount to bet e.g. 1 satoshi,
in case of loss we double the bet (in this case it will be 2 satoshi), and in case of winning we return to the initial rate.
Of course to make it faster we can set it up in the automatic mode (auto bet) and observe the results. This setup looks like the following: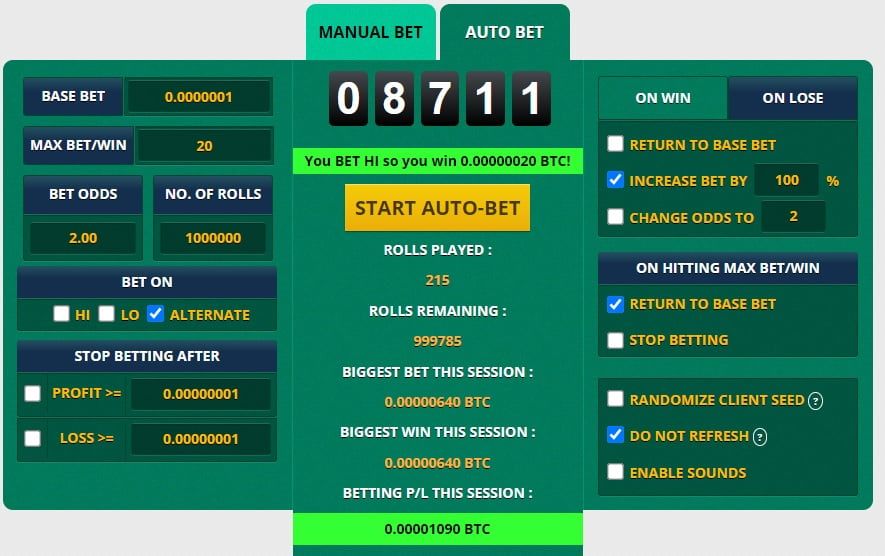 Choosing the above strategy, after a hit we will be ahead by the selected stake, even if we had a series of failures before. Everyone can try to find their own strategy, but in fact no strategy is guaranteed to win (including the above one). Even a very long series of failures is possible here, although it may seem unlikely at first.
If there was any strategy that would guarantee winning in this type of games, casinos simply wouldn't exist, but as you can see they exist and are doing quite well.
Other options that allow you to earn in Freebitcoin
Betting – betting on various events, such as. who will win the Champions League, what will be the btc rate in a certain period etc. The value of the winnings depends on the amount bet and how many people have bet on the same type. The principle of operation strongly resembles betting, but here we do not have a fixed odds,
Golden Ticket – chance to win a new Lamborghini or $200,000 in BTC. The winner will be drawn from the tickets you get for playing the mentioned "multiply btc" or betting "betting". Additional lottery tickets can also be purchased with coins collected in the tap,
Earn BTC – account on freebitcoin also serves in a sense as a savings wallet. The funds accumulated in the program are interest bearing and the potential profit can be checked using the built-in calculator. It works like a savings account,
Lottery – there is also a lottery on the site that allows you to earn extra btc. The chance of winning depends on the number of tickets you have and their total number (tickets from all users). For each roll we get free tickets, and the draw itself takes place every week,
Rewards Reward points received can be exchanged for various prizes – both in kind and increasing the earnings in the program (e.g. 1000% bonus of collected btc from the roll or additional tickets). We can also simply exchange them for satoshi at an exchange rate of 1:1,
Refer – freebitcoin also has a referral system that allows you to invite friends using reflinks. Earnings from referrals are 50%, so a large number of them can guarantee a very good passive income. An interesting option here is also the possibility of automatically sharing with them a certain percentage of the satoshi they have earned (the so-called. refback),
Contest – monthly contest, where people who had the highest turnover on "Multiply btc" win additional prizes. The jackpot is as much as $20000 in bitcoins, so it's a really big amount. The prize goes to the first 10 people ($10000 for 1st place). An additional competition is available for people whose reffers had the highest turnover. The prize pool in this case is $10000 ($5000 for 1st place) – also for the first 10 people. The current table is constantly available, so we can continuously monitor our progress.
Wheel of Fortune in Freebitcoin
Freebitcoin has also introduced a wheel of fortune (wheel of fortune), in which theoretically we can win a rolex or $ 15,000 in btc. It is an amount that stimulates the imagination, but we must be aware that the chances of this are very small. Nevertheless, it is worth trying because you get one spin of the wheel per day completely free. The only condition is the subscription, so you allow freebictoin to send the newsletter to your email address. Once you have given permission, at the bottom of each message you will find a ticket that you just have to click on to get to the wheel. It looks like this:

How to start a subscription?
We login to Freebitcoin,
at the bottom of the page find and click on the Wheel of Fortune banner,
We click "subscribe now".
From now on, in every message from the faucet you will find a ticket entitling you to a free spin on the wheel. It is worth noting that we can gain up to 16 additional spins per day with a premium membership.
What is on the wheel?
rolex or $15 000 in btc,
iPhone 12 PRO Max or 1500$ in btc,
lottery tickets (also golden tickets),
gift cards to Amazon,
reward points,
satoshi.
Premium membership
In the Freebitcoin taproom we can also decide on the premium membership, which is based on FUN tokens. Their purchase and keeping them for a certain amount of time guarantees us additional profits – depending on the amount purchased. Of course we can also sell them at any time.
What we gain by having FUN tokens?
with multiply btc and betting – part of the amount spent on betting and playing multiply btc comes back to our balance (up to 1%),
increased profits from earn btc – higher interest on daily accumulated satoshi (up to 25%),
Extra spins on Wheel of Fortune (up to 16 per day).
To gain maximum profits we need to have 500 000 tokens, but for the first threshold we only need 2500. Of course the bonuses then are correspondingly smaller.
Withdrawal of earnings from Freebitcoin
Freebitcoin allows you to withdraw in 3 ways, and the minimum necessary to order it is 30000 satoshi:
auto automatic payout to the specified address every Sunday. Provided that you have at least the minimum required amount.
slow – payout within 6-24 hours.
instant – payout in 15 min, but unfortunately with a higher processing fee.
The faucet itself also serves as a cryptocurrency wallet, so we can also deposit coins collected in other faucets to reap the profits from the interest-bearing balance.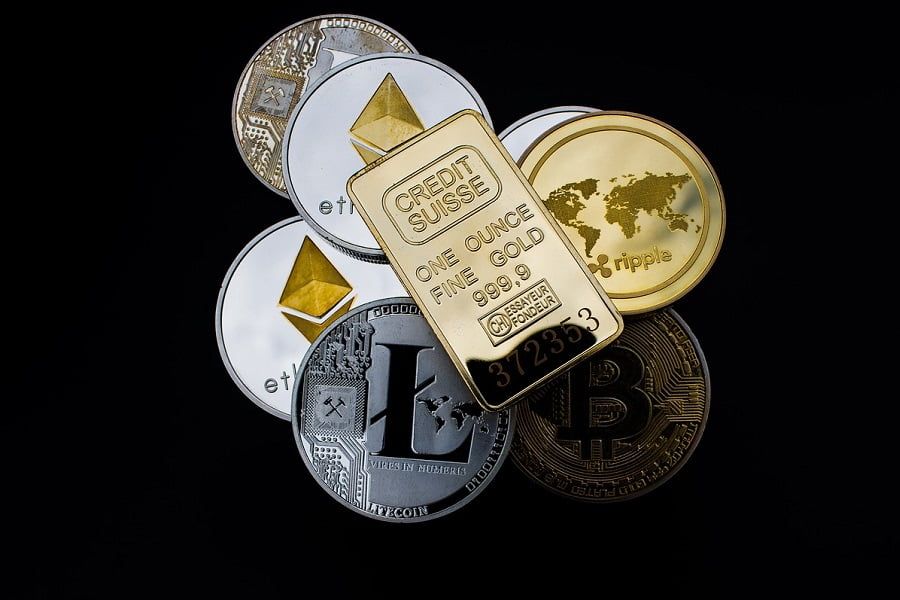 Of course, the satoshi collected in the tap can then be easily exchanged for real money and withdrawn directly to the designated bank account. There are several possibilities and each of them has its advantages.
How to collect more cryptocurrencies for free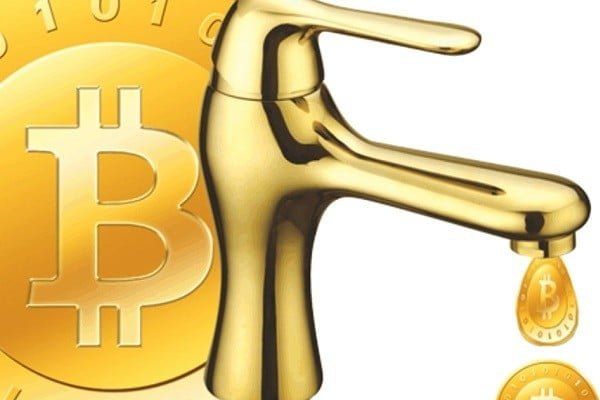 Kranks are an interesting way to collect free cryptocurrencies, but unfortunately by operating only on one service we are somewhat limited. That is why it is worth registering with others in order to easily increase the amount of coins you earn.