Chomikuj – opinions | how the service works?
The perishability of CDs/DVDs and hard drives has created a need to come up with another, more secure way to store and share your data. The matter has been greatly facilitated by the development of the Internet, which contributed to the emergence of services offering file hosting. One of them is downloads.pl, where – as the name says – we can "hoard ", i.e. store our files and share them with other users. How it works and what we should know about it?
Chomikuj.pl – how does it work?
Service chomikuj.pl offers primarily two functions, which we gain by creating an account. The first is to collect your data on a virtual disk of the service, so that you can access it from different devices. The second one allows you to share files, so that other Internet users can download them. Undoubtedly, it is one of the most popular hosting sites in Poland.
How to use the service?
The first step to be taken in order to use Chomikuj is to create an account and accept terms and conditions. Immediately after registering the profile we receive an allocation of network space, which is located in the mass memory of the server. It is where we can store our data. In order to use a virtual disk on theomikuj server all you need is an Internet connection and a web browser. As a user of the service we are given the name "hoarder" and we collect our files in the so-called "hoarder". "spiżarni".
Storing and sharing files
Being a service user we can store almost all files that do not break the law. We must remember that the Polish legal system allows us to store files within the possibility of having backup copies of legally acquired files, but it is not allowed to share files protected by copyright. We can freely store only the files to which the authors have agreed. All other files can be collected only for personal use, so these types of files must be placed in a folder with a password.
Downloading files from on line.pl
Chomikuj is not only a hosting service that serves to store data for personal use. All files that are not protected by copyrights can be shared and other users can download them. Downloading files smaller than 1 MB is possible without login. However, those that weigh more and are not placed in "free" folder require the downloading user to register an account and log in to his/her profile. The basic, free package for each hamster is the ability to download 50 MB of files per week, although there is an option to pay a higher limit.
Search engine in chomikuj.en
It is worth mentioning thatomikuj also offers file search engine located on the server, which is not so obvious among the competitors. Thanks to it we can easily search the resources of the site in search of files that interest us, and using the filter we can specify exactly what we are looking for. We can choose the basic types of files, that is:
video files,
images,
music files,
documents,
archives,
programs.
Moreover we can define file size (from – to) and file format eg. mp3.
Transfer – top-ups and subscriptions
By default we have in our service 50 MB transfer per week (renews every Monday). This is a relatively small amount of data, so if necessary we can increase this limit. Increase the transfer we can in 3 ways:
single top-up – without a time limit, so until the limit is reached. You can purchase from 2 GB (+ 1 GB free) to 80 GB (+ 40 GB free),
subscription fee – limit is renewed every week (1, 3 or 10 GB). The price depends on the period for which you buy a subscription (month, quarter or year),
SMS subscription – tops up automatically until the time (1, 3 or 10 GB per week), until we resign from the subscription (we can do it at any time).
Payment methods
On the site.pl additional transfer can be paid in 3 ways. By:
YetiPay,
bank transfer (also blik),
SMS.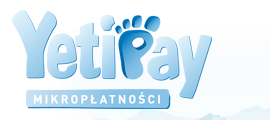 YetiPay is a wallet, thanks to which we can make instant payments on the Internet, but unfortunately it is still far from the top. We are unlikely to find too many services that support it but it may be useful for topping up transfer in chomikuj.en.
Pricing inomikuj
| Amount of transfer (GB) | Price (Yetipay and bank transfer) | SMS price |
| --- | --- | --- |
| 2 (+1 free) | 5,86 zł | 8,61 zł |
| 4 (+2 free) | 9,24 zł | 12,30 zł |
| 7 (+3,5 free) | 15,47 zł | 16,68 zł |
| 15 (+ 7,5 free of charge) | 32,23 zł | unavailable |
| 40 (+ 20 free) | 77,37 PLN | not available |
| 80 (+ 40 free) | 154,73 PLN | not available |
Subscription (single payment)
In the case of a one-time payment for the transfer, the price depends on the method of payment. The best choice is YetiPay or payment by bank transfer as it is much cheaper but we can also pay for additional transfer by SMS.
| The weekly amount of transfer | per month | per quarter | per year |
| --- | --- | --- | --- |
| 1 GB | 3,10 zł or 4,92 zł SMS | 8,27 PLN or 11,50 PLN SMS | 28.94 PLN or 34.99 PLN SMS |
| 3 GB | 7,23 PLN or 11,07 PLN SMS | 20,57 PLN or 24,99 PLN SMS | 68,22 PLN / SMS – none |
| 10 GB | 14,78 zł or 23,37 zł SMS | 39,28 PLN or 46 PLN SMS | 132.30 zł / SMS – none |
SMS subscription (automatic payment every week)
In the case of this option we will receive the transfer automatically every week, until the resignation. The price is as follows:
1 GB – 1.23 PLN / week,
3 GB – 2,46 zł / week,
10 GB – 4,92 PLN / week.
How to earn points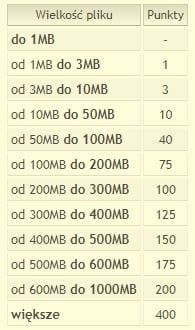 On Chomikuj we can also earn points to exchange them for additional transfer. What exactly do we get it for?:
downloads the files provided by us . Of course we will not receive points if we download our own files,
storing files . We receive points for each uploaded file, depending on its size (from 1 point for 1-3 MB files to 400 points for files of more than 1000 MB – exact values in the table),
wallpapers uploaded to the phone . Each image in the service has an additional button "Send to phone". We will receive as many as 500 points if the person visiting chomikuj.pl will use this button and download our image in this way.
Legal problems chomikuj.en
Service chomikuj.pl is very popular and famous but unfortunately it also has its legal problems. Above all, it belongs to the world's top hosting sites accused of copyright infringement. As TorrentFreak reports, the Recording Industry Association of America is planning to do something about it.
RIAA has convinced an American court to approve a request for data transfer of individuals or companies that are behind the website. It also demands from the owners of the service to remove music files and even entire albums of the musicians they represent. In addition, on behalf of the creators expects financial compensation for the losses incurred.
How do the owners defend themselves?
The authors of the service defend themselves by the fact that it is not them who place illegal content on the site, but only give users the freedom, which is not always used in the right way. The owners claim that they react to every copyright infringement notification and remove such files from the website immediately. As you can see this is a sufficient argument, because the service still works.
Is it possible to legally download from Chomikuj?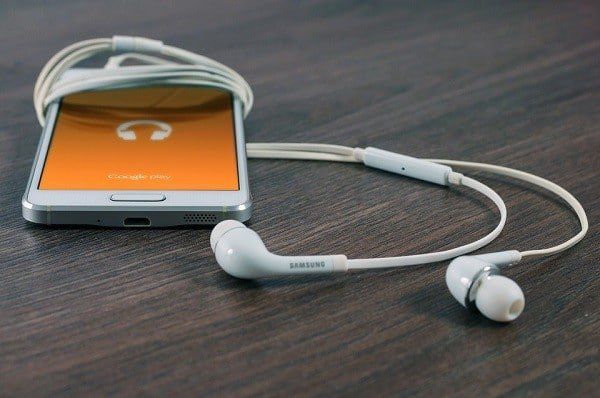 In Poland only a person who makes files available online is legally responsible. This means that people who download music, movies, ebooks and audiobooks will not be held accountable. The matter looks different when it comes to computer software, where the owner of the computer will be punished for installing a program without the legal key.
Alternatives foromikuj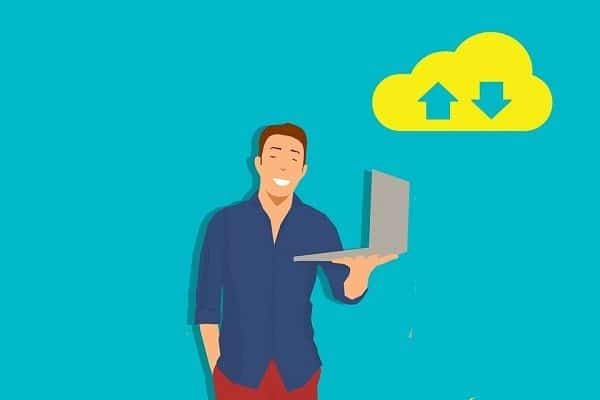 Of course there is no need to look for alternatives when you just want to download a file found on a site. What else, if we don't find what we are looking for, or we even want to make money on downloads of the files we share. Unfortunately chomikuj.pl does not provide such a function, so there is nothing else to do but to use the services, which provide such an opportunity.
Opinions about chomikuj.en
omikuj.pl is undoubtedly one of the leading services of this type, so it works great if you just want to store your files on the server or download those that are there. Among the advantages we can certainly include a built-in file search engine, which is not so obvious with the competition. The only downside is that there is no way to make money on the content shared.
Do you have any experience with the service? Share your opinion in the comments.
8 comments to "omikuj – opinions | how the service works?"
I used to like this site a lot when I was a kid, it was the only site I went to to download music, pictures, etc. I found it the best to use. Now with the passing of time I think that there are much better sites to download but oh well .. this is just my opinion. Now it's been a long time since I've downloaded anything from there, but I remember that one of the disadvantages was that you had to wait an awfully long time .
Chomikuj has its years and experience but it is still a useful and sometimes even salutary website. Not to mention the amount of movies, games and other interesting stuff you can find there typically for entertainment because it's hard to count probably. More importantly, I think that a lot of people went through college thanks to this site. If it came to buying each book one by one in a bookstore, the student budget wouldn't last, and the few copies would quickly disappear from libraries. In the meantime, "hamster" came to the rescue and you could solidly prepare for classes, exams and deepen your knowledge without limits, as well as share what you have managed to get yourself.
I used to use this site. Mostly during my school and college times. I was looking not only for films or music but most of all for learning materials. Sometimes even for tests 🙂 But now I do not use it very much, very occasionally. But I think that the site is worth recommending.
I remember my school days with chomikuj.. I had a hamster on every computer and was looking for a test sheet 😀 Hamster was cool because it was a cluster of useful stuff, now there's no such a file portal that would offer such a variety as hamster. Too bad, but well, times change and what was good will not come back in the same form ;(
On Chomikuj you can find really a lot of files, movies, music, programs and different types of text documents in formats .doc and pdf. Unfortunately, the site is not completely free and you have to pay for the transfer, which is exchanged for the downloaded file. I used to use this site quite often, but since the Internet became much wider and more and more DOWNLOAD sites appeared I don't look there anymore.
Films or series if you are looking for it, you can find good ones. Such pearls as Sherlock Holms series with Jeremy Brett.
For me it is a treasure trove of files especially for my studies. There is a lot of materials, scans, notes. Most of the materials are for a small fee and this is great for a student's pocket. Besides, you can find books, newspapers and movies there. The cool thing is that you don't have to pay a huge amount of money and you can recharge your account by text message once in a while. Then you have a certain limit of GB to download.