Allegro Gift Card – where to get and how to use it?
Allegro This is Poland's largest sales platform, which needs no introduction. In the service we also have at our disposal gift cards, which we can use when shopping to complete a transaction or to reduce the value of a larger order. How to use such a card, where to buy and how to get them for free?
Allegro gift card – what it is?
Allegro Gift Card is simply code, which we have to give when finalizing the order. Thanks to this we will pay for purchases less by the value of such a card. It is worth noting that in the case of purchases of the amount equal to or less than the face value In order to use such a card, we have to pay additional PLN 1 to authorize the transaction. The gift card is available in 2 variants:
online – in the form of a code sent to a specified e-mail address,
offline – to be bought at stationary stores.
How to use Allegro Gift Card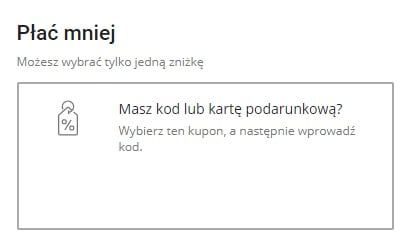 The gift card can be used before the transaction is finalized. At the very bottom, under the choice of delivery method and payment method you will find the option "Pay less", where you must select the option "You have a code or gift card?". After clicking on it, a window will pop out, in which we have to enter the code from the card and then approve. The amount to be paid will be reduced accordingly if the code is correct. It is worth noting that in the section "Pay less" we can also use the collected coins, but unfortunately only one discount can be active at a time.
Where to buy
Buying the Allegro gift card for yourself does not make much sense because you can simply pay for the order online or on delivery. However, they can be useful for example as a gift, when we do not have any other idea. Thanks to this, we can avoid a situation where a gift will not be right and the recipient will certainly make good use of it. So Where to buy Allegro Gift Card depending on the type:
Online gift card
You can buy the gift card online directly on Allegro. We should receive the code on the specified email address right after the purchase, and the available denominations are: 20 zł, 50 zł, 100 zł, 150 zł, 250 zł, 500 zł. It is worth noting that we can choose different images of the card and then print it.

Offline gift card
The offline version of the gift card is available at Allegro partners' points of sale. They are offered by: Żabka, Kolporter, Neonet, Auchan, Relay, Inmedio, 1minute, Tesco, Komputronik, BP, CircleK, Pepco. The card is available in denominations of PLN 25, PLN 50 and PLN 100.
Allegro gift card for free
It is worth knowing that we can also get gift cards to Allegro free and these are the same cards that we can normally buy. Well, maybe not quite for free, because we have to spend some free time, but we will get it without spending a single zloty. All you have to do is use the services that give out gift cards in exchange for certain activity. The ones that allow this are:

Surveyo24 is a survey panel where we get points for filling in surveys. These in turn can be exchanged for a gift card to Allegro.